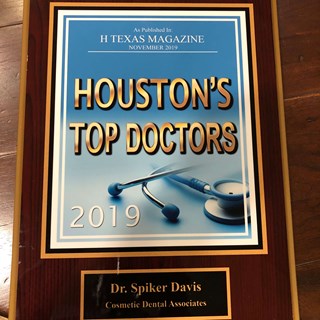 A distinguished dentist in a league of his own, Dr, Spiker Davis, D.D.S., FAGD, MAGD, AAACD, offers his patients the best in care with general, cosmetic, and restorative dental procedures. At his practice, Cosmetic Dental Associates, which he founded in 1984, Dr. Davis delivers incomparable service and commitment to his patients. As one of approximately 275 dentists globally accredited by the American Academy of Cosmetic Dentistry (AAACD), Dr. Davis has continuously displayed his dedication to the art and science of dentistry. It's no wonder that Dr. Davis routinely adds to his plethora of accolades, including Cosmetic Dental Associates being named "Best Dentist in Houston" by Dr. Oogle.
Whether Dr. Davis is treating a nervous teen or a big name TV personality, each can expect his same level of skilled expertise. Dr. Davis is a smile master, where he has extensive training and expertise in creating award-winning smiles through implants, veneers, and teeth whitening. Dr. Davis has transformed the broken, damaged, discolored, and unappealing teeth of thousands over his years of practice. With advanced training in reconstructive surgery, Dr. Davis is experienced in administering anesthesia for various, complex cases, which involve dental restorations, extractions, and more.
Dr. Davis received his Doctor of Dental Surgery in 1974 from the highly-acclaimed University of Texas at Houston. From there, Dr. Davis went on to receive elective training in both reconstructive dentistry and general anesthesia at L.D. Pankey Institute for Advanced Dental Education in Florida. The Pankey Institute is considered one of the world's foremost institutions for delivering advanced dental education.
Among his most distinguished accomplishments, Dr. Davis is among the 275 dentists worldwide who are accredited by the American Academy of Cosmetic Dentistry. In addition, Dr. Davis has achieved Fellowship and Mastership status in the Academy of General Dentistry. This demonstrates Dr. Davis' commitment to providing superior care to his patients through continued education. On top of that, Dr. Davis is among the world's elite eight Masters of the Academy of General Dentistry who are also accredited by the Academy of Cosmetic Dentistry. His extensive career has led Dr. Davis and Cosmetic Dental Associates to be rated number 1 among the best 780 dentists in Houston, according to Dr. Oogle.
With a passion for educating others, Dr. Davis shares his extensive dentistry knowledge as an Adjunct Professor at the University of Texas Dental School. Over the years, Dr. Davis has been called upon to lecture internationally on various topics of cosmetic dentistry techniques and technology.
Dr. Davis is proud to hold memberships in the following organizations:
American Dental Association
Texas Dental Association
Houston District Dental Society
Psi Omega Dental Fraternity (former Vice-President)
Kappa Sigma Fraternity (former Treasurer)
Houston Chapter of the Academy of General Dentistry (former President and Master)
Out of the office, Dr. Davis has served his community by being a deacon and Sunday school teacher at the Second Baptist Church. He is also a member of the president's council at Houston Baptist University and is a former area committee co-chairman for Younglife at Kinkaid and Lee High Schools.
Dr. Davis is happily married to his wife, Betty Davis, a native Houstonian. Together, they have three wonderful daughters and ten grandchildren. Betty is a licensed real estate agent for Keller Williams Realty and she and Dr. Davis custom build homes and invest in real estate. In their spare time, they stay active and fit by skiing, rollerblading, dancing, hunting, fishing, and exercise of all types.
Dr. Davis also has a healthy living dental blog that he writes posts for throughout the month: thepaleodentist.com.
Reviews
"I have to be honest... the dentist, by nature, is not my favorite visit. As such, I really do appreciate a place where I can experience something akin to torture for me and still leave with a smile on my face. I've been a patient of Dr.Davis' since the 90's and I still have all my teeth! Every one of the staff is very personable and I have always felt comfortable about their feedback, advice and professionalism."
H.D.
Google
"My visit was great from the moment I arrived. Liz made feel very comfortable and was very helpful explaining options. Dr. Davis gave me a consultation about my teeth and he gave me exceptional advice. They did not push anything on me. Dr. Davis is kind in his approach. The office is beautiful and clean. I will be going back for treatments! Thank you!"
J.N.
Google
"Spiker and team were able to respond to my 'minor mouth emergency' and schedule me outside of normal business hours! A great quick response with great results!"
T.S.
Google
"The absolute best dentist. From the moment you walk in the office you will receive the very best dental care. Dr. Davis and his team are detail oriented, knowledgeable and will ensure you receive your desired smile. I have been going to Dr. Davis for years and I cannot recommend him enough!"
E.H.
Google
"Cosmetic Dental Associates have been my choice for the past 25 years. The staff is warm and welcoming and the dental care is outstanding. They will take care of you and keep your teeth in your mouth. I have high standards and their team meets the challenge. A special thanks to Spiker and the rest of the team for putting up with me for so long. Highly recommended."
V.L.
Google
Related Posts