I Chipped My Tooth! Can Dental Bonding and Contouring Fix It?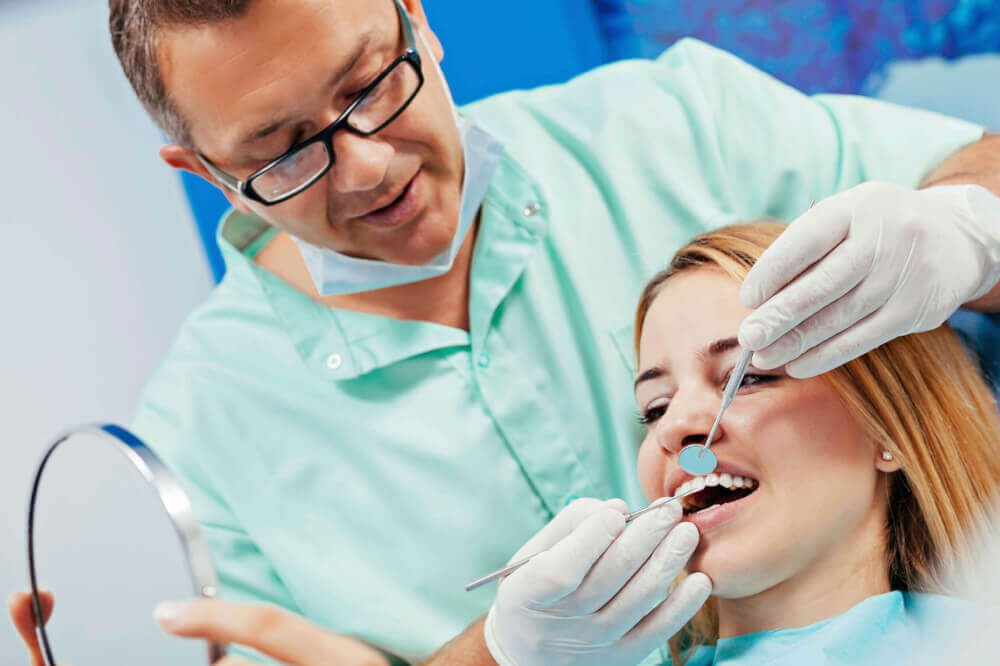 A chipped tooth is almost always unexpected. That hard piece of candy you bit into, a glass tipped just a little too far back, or an unfortunate slip left you with a nicked tooth. While the chip may be small and not outwardly noticeable at first glance, it is bothersome. There are restorative cosmetic dental treatments available to fix a chipped tooth, including dental bonding and contouring.
The highly-acclaimed cosmetic and dental professionals at Cosmetic Dental Associates in Houston, TX have the experience and skill-set to restore your smile. Whether your chip is small or large, our dentists have helped many patients in the Houston area transform their smiles and eliminate bothersome dental issues so they can proudly show off their beautiful teeth. Our experienced team of dentists explain dental bonding and contouring and how these techniques can help patients eliminate small imperfections, like chipped teeth, and make a significant improvement in your smile.
What is dental bonding?
The experienced dentists at Cosmetic Dental Associates in Houston, TX, can repair small chipped, cracked, gapped, and discolored teeth with dental bonding. Dental bonding is a quick, non-invasive option for patients who need just a small repair. During the process, a resin material is used to reshape cosmetically flawed teeth. The bonding is tooth-colored and blends perfectly when applied or "bonded" with the rest of your smile. This procedure is also very effective as part of a smile makeover as it masks common issues like staining and discoloration.
How can dental contouring fix a chip?
As part of the dental bonding procedure, patients in Houston, TX may also need "contouring," or shaping, of the tooth. Contouring removes a tiny amount of enamel which changes the tooth's shape and overall appearance. Contouring is an excellent method for fixing small chips, pointy tooth ends and correcting abnormal tooth shapes. Bonding and contouring are cost-effective methods for dramatically improving a smile, typically in just one visit.
Dental bonding procedure
The first step in bonding is to choose the correct shade or color for your tooth. A shade guide enables the dentists at Cosmetic Dental Associates to select the most closely matched color resin for your tooth. The surface of the tooth is roughed, and a special treatment is applied to help the bonding adhere. The resin is then tailored for your tooth's shape and covers any imperfections. A laser hardens the bonding in preparation for the final step, shaping and polishing. This entire process can usually be completed in one hour or less.
Post-treatment care
Dental bonding and contouring are easy and one of the least expensive ways to fix a small chip in a tooth. Your fixed tooth does not require any additional special care. As always, following the rules of good oral hygiene is critical for the health of your teeth. Brushing your teeth twice a day followed by flossing and regular dental checkups ensure the longevity of your teeth. It is possible for bonding to chip, so it is best to avoid eating hard foods, such as ice or popcorn kernels, and never use your teeth as an opener. For Houston-area patients who grind or clench their jaws, the dentists at Cosmetic Dental Associates may recommend you wear a night guard while you sleep to reduce the risk of further cracks. Bonding can last anywhere from three to ten years with the proper care.
A chipped tooth vs a cracked tooth
Many men and women in Houston, TX may not even be aware that they have a chipped tooth. Not all chipped teeth produce symptoms and may even be too small to notice. It's important to note that a chipped tooth isn't the same as a cracked tooth. Common symptoms of a cracked tooth include pain when biting down, temperature sensitivity, intermittent pain, and swelling in the gums. If you are experiencing any of the above symptoms or notice a crack, it is best to call the office of Cosmetic Dental Associates right away to schedule a visit. Prompt treatment can stave off an infection, further damage, and may even be more cost-effective than if you waited. Patients who opt not to fix broken teeth are also more prone to cavities due to the compromised structure. Eliminating dental issues like a chipped or cracked tooth and restoring your smile has a significant impact on your overall dental hygiene and self-confidence.
If you think you have a chipped tooth, call Cosmetic Dental Associates in Houston, TX and let our skilled dentists evaluate your situation and determine the right course of action. Delay in treatment can potentially cause even more damage and other costly dental issues if not corrected in a timely manner. If you have a small chip in your tooth, dental bonding and contouring can quickly and effectively restore your smile with renewed confidence. Call or schedule your dental consultation with Cosmetic Dental Associates today.