Five Cosmetic Dental Treatments Used During a Smile Makeover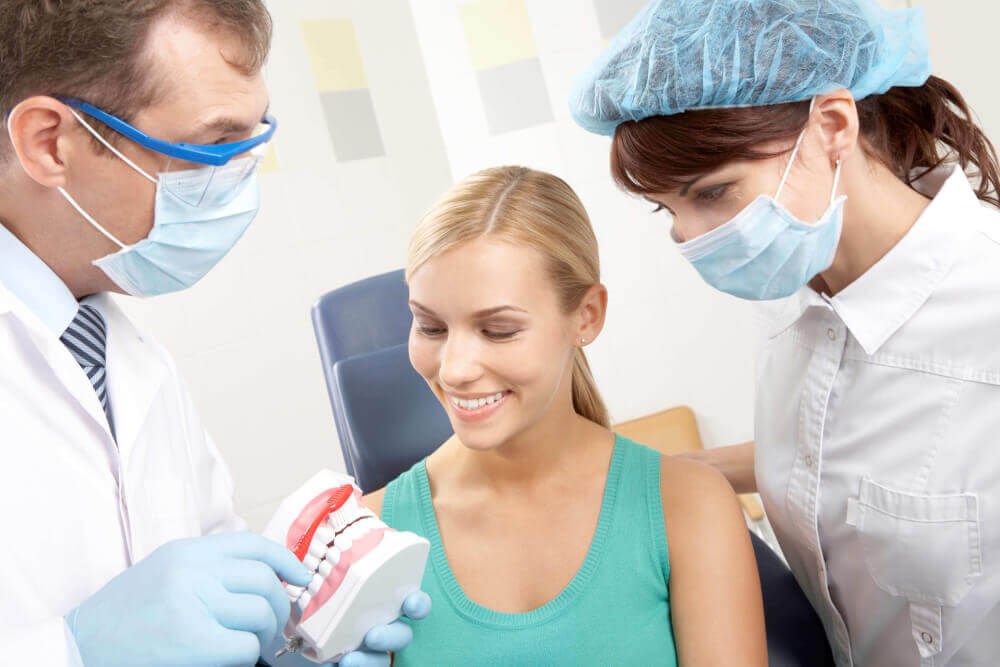 Today's advanced cosmetic dental treatments can have a significant impact on transforming a person's smile. After all, a person's smile is often the first thing we notice when greeting someone. For men and women who have unattractive teeth, they may not be willing to smile confidently for fear someone will see a chipped, discolored, or misaligned tooth. If this describes your smile, then you may be a candidate for a smile makeover. The dentists at Cosmetic Dental Associates in Houston, TX are highly experienced and skilled cosmetic and restorative dental experts. Patients needing cosmetic dental assistance will feel comfortable knowing that Dr. Davis and Dr. Guerre have over 20 years of experience and provide excellent dental care to restore smiles for men and women in Houston so that they can feel and look good. A smile makeover can transform your smile for many years to come.
The smile makeover explained
A smile makeover is a customized plan that often includes a variety of dental and cosmetic treatments specific to your individual needs. Whether you need porcelain veneers, teeth whitening, dental implants, or orthodontics, the main goal is to improve the look of your teeth along with your oral health. While some smile makeovers are less involved and may only need one treatment such as veneers or teeth whitening, others may require more extensive procedures, like crowns or fillings for severely decayed teeth. For patients in Houston, TX, our dentists first ensure your oral health is in tip-top condition. Any dental issues such as cavities, gum disease, etc. will be addressed before cosmetic treatments take place. Then they will develop a customized treatment plan for your smile makeover so you can smile proudly once again.
How do I know if I need a smile makeover?
The following list features some of the conditions a smile makeover can fix:
Chips
A chipped tooth is never anticipated. Whether you chipped your tooth due to an injury or from merely biting down on a popcorn kernel, it can affect the way people view you as well as your own self-confidence. Even though other people may or may not notice it, it is common to think that people are staring at your chipped tooth while you speak.
Cracks
While a cracked tooth may not be as obvious as a chipped tooth, if left untreated it can lead to other dental issues. A cracked tooth can be painful when you eat and cause sensitivity to temperatures, which is an extremely uncomfortable feeling. A cracked tooth should be addressed sooner than later, so the damage does not worsen and the potential for infection is avoided, which can spread into other teeth. A crown or root canal is often the best course of action to remedy this situation.
Discoloration
Smoking and drinking beverages such as wine, coffee, or tea can alter the color of your teeth from white to yellow. Discolored teeth can make anyone feel self-conscious and even make you look older than you really are. There are many over-the-counter teeth whitening options, but they do not work as effectively as professional whitening treatments.
Misshapen or crooked teeth
Teeth that are misshapen or crooked are obvious and can cause other problems in the mouths of Houston-area men and women. Overcrowding, an overbite, and an overall unsightly appearance are all hallmarks of these issues. Our dentists provide multiple treatment options, including orthodontic work, that can correct your teeth to a straighter, more symmetric smile.
Five popular dental treatments used in a smile makeover
1. Fillings
Fillings that are the same color as your natural teeth are used to fill cavities and can replace an older silver filling. Discrete in nature, they hide the signs of cavities since the filling is matched your own enamel and blends in with your natural teeth. Tooth-colored fillings are a great option to restore the function and strength to your teeth.
2. Tooth bonding
Tooth bonding is an inexpensive way to remedy, strengthen, and improve the appearance of teeth that have been stained, chipped, discolored, or decayed. The dentists at Cosmetic Dental Associates in Houston, TX uses a composite resin that is color-matched to your natural tooth color and then bonded to the tooth. Bonding is a convenient and quick option that can be performed during a single visit to our office.
3. Laser teeth whitening
Zoom! laser teeth whitening is clinically proven to get your teeth up to eight shades whiter in one single appointment. This state-of-the-art laser removes stains from the enamel and dentin quickly without damaging your tooth's structure. Zoom! is the perfect solution for patients with coffee, food, and tobacco stains. Compared to over-the-counter whitening products, laser teeth whitening can last for up to 3-4 years.
4. Porcelain Veneers and Lumineers
Porcelain veneers are a wafer-thin layer of ceramic that is placed over a patient's real teeth. A cosmetic dental treatment that can offer the most dramatic results, they are one of the most popular smile makeover options for our Houston, TX dental patients. Veneers are permanently bonded to the front of the teeth. The result is a beautiful, symmetrical smile that hides any imperfections that once existed.
Lumineers provide the same effect as porcelain veneers, but they are even thinner and require less tooth preparation. Both types of veneers can last for up to 20 years with proper care.
5. Teeth straightening
The dentists at Cosmetic Dental Associates in Houston, TX offer Invisalign to help patients transform uneven teeth into a straight and uniform smile. Invisalign is an excellent option for teens and adults who are interested in straighter teeth but want more flexibility than traditional braces can offer. Invisalign features multiple clear aligners that are made from digital molds of your teeth. These aligners are created for both the top and bottom teeth and every few weeks are replaced as movement take place. Typical treatment time can take anywhere from 12-18 months.
There is no reason to hide behind a closed mouth any longer, thanks to the innovative smile makeover. If any of these treatments sound exciting and you want to learn more about a customized smile makeover, then please give the Houston, TX office of Cosmetic Dental Associates a call to schedule your initial consultation. Our experienced team of dentists will assess your oral health and collaborate with you as to which procedures are the best fit for your aesthetic objectives.