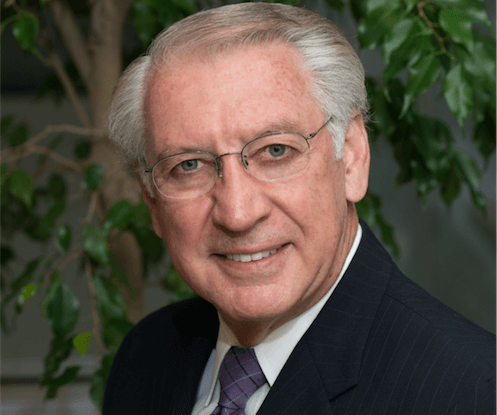 As a true dentist's dentist, Dr. Ernie Anderson is the dentist that other dentists choose for dental work. In fact, more than 55 dentists from around the country have chosen Dr. Anderson for their own dental work. The Houston dentist is a pivotal part of Cosmetic Dental Associates and works on complex dental cases, including general, cosmetic, and restorative cases. For more than 35 years, Dr. Anderson has been restoring function and enhancing the natural beauty of smiles for patients.
Through advanced technology and techniques, ongoing training, and education, Dr. Anderson and his professional staff strive to promote optimum oral health and instill the importance of quality dental care throughout a person's lifetime. With a firm commitment to excellence in dental health care, Dr. Anderson continually seeks to provide a warm and caring atmosphere where people are treated thoughtfully and according to their individual needs. Caring for the "whole" person, Dr. Anderson truly embraces the statement that "patients do not care how much you know until they know how much you care."
In 1971, Dr. Anderson began practicing general dentistry and since that time, he has developed a unique practice focusing primarily on adult restorative dentistry. Many of his patients are referred to him by other dentists seeking assistance in handling especially complex cases. Dr. Anderson's special focus includes construction of crowns and bridges, dental implant restoration, TMJ (Temporomandibular Joint) dysfunction, involving problems with the jaw and overall bite. Dr. Anderson also performs cosmetic procedures, such as teeth whitening, veneers, and cosmetic crowns.
Dr. Anderson earned his Doctor of Dental Surgery degree from the University of Texas Dental Branch. In addition, he completed several fellowships: Fellow and Master in The Academy of General Dentistry, Fellow in The American College of Dentists, Fellow in The International College of Dentists, and Fellow in The Academy of Dentistry International.
Honored for his outstanding work, Dr. Anderson has received the Cooley Clinic Award and The University of Texas Dental Branch's Master Practitioner Award. As a nationally recognized speaker, Dr. Anderson travels extensively to further educate other practitioners in the areas of dental occlusion (the bite and jaw joint) and restorative dentistry. With a true commitment to education, Dr. Anderson is also on the teaching faculty of the Pankey Institute for Advanced Dental Education in Key Biscayne, Florida and has been a part-time professor of Prosthodontics and General Dentistry at The University of Texas at Houston, Health Science Center, Dental Branch.
Dr. Anderson is proud to hold memberships in the following organizations:
Greater Houston Dental Society
Texas Dental Association
American Dental Association
Southwest Academy of Restorative Dentistry
American Academy of Restorative Dentistry
American Academy of Cosmetic Dentistry
Since dentistry has evolved into a complex profession with high-tech advances, Dr. Anderson has openly embraced many innovative procedures. One such procedure involves a computer-controlled particle beam abrasion tool where traditional drilling is bypassed and cavities are filled comfortably, often with no anesthesia. The use of a laser to treat gum conditions reduces discomfort and shortens healing time. Dr. Anderson is also a proponent of using digital X-rays to provide immediate images with enhanced diagnostic features.
Since 1994, Dr. Anderson has offered an innovative solution to snoring and sleep disorders. This specialized sleep appliance has offered excellent results for those (and their sleep mates) who suffer from snoring and sleep disorders.
While remaining a leader in the field of dental knowledge and delivering quality dentistry are of the utmost importance to Dr. Anderson, equally important is his involvement in local and remote area medical and dental clinics. This commitment has taken him to the Yucatan Peninsula to provide basic dental treatment to the people there without dental care. For many years, Dr. Anderson has also been involved the Texas Dental Association's Donated Dental Services program, providing dental care to the less fortunate in the community.
Dr. Anderson and his wife, Karen, have 3 children and 5 grandchildren. The Andersons have been residents of the Champions Area of North Houston since 1971. Heavily involved in his church, Dr. Anderson is an Elder at Grace Presbyterian Church where he is active in Evangelism, Missions, and Christian education, as well as teaching adult Sunday School.
Related Posts